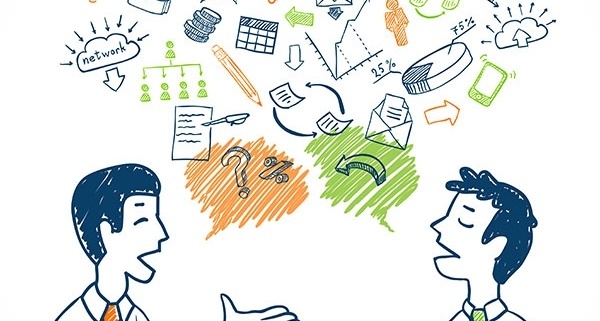 How to Start a Conversation in (almost) Any Situation (Infographic)
A big part of being a business owner is in-person communication. Actually, that's a big part of just being human – it's something we all face. If you're anything like some of us here at Steady Radiance Design, the thought of the conversations at networking events or conferences might make you shudder. First you have the awkward small talk about everything and nothing. Then you have extended periods of silence that go on for ages. It's all enough to make even the biggest social butterfly uncomfortable.
Enter, this list of easy-to-remember conversations starters (what we consider to be the "best of" the options we've found). Having an arsenal of good, thought-provoking conversation starters can turn any event into an interesting and even entertaining experience. Keep this infographic handy on your phone or tablet for a quick idea at your next social event! (click here to go straight to the infographic)
Start a Conversation at a Conference
Conferences are generally a fairly easy place to start a conversation because of the multiple sessions and speakers. Above all, we've found that the most memorable conversations happen when the conversation is a bit unique. Therefore, we suggest a little variation on the standard conference conversation theme.
If you could have everyone in your company watch a single session from this event, which would it be?
What have you learned that you find to be the most surprising? (add "so far" if it's not over yet)
Is there any conference (real or imaginary) that you would love to attend?
Do you think that [industry] would benefit from more or less conferences?
Start a Conversation at a Social Event
Social events can be a challenge with conversations. A social event could be anything from a retirement party for a coworker to a birthday party for your niece. So not only is the event itself obscure, the people who attend will be equally so. Because of the varied nature of these events, having some tricks up your "conversationalist sleeve" can be just what you need. Here are some conversation starters that can get you going in this environment.
If you had to switch outfits with one person here, who would it be?
I've really itching to go on a trip. Have you traveled anywhere interesting lately?
What do you think are the top three ingredients for a successful party?
Do you have a signature drink? (gesture to their glass)
Start a Conversation at an Industry Event
Industry events are generally more specific and thus provide a good idea of what you might be able to talk about. However, like conferences, that conversation can tend to get a bit tedious. To help prevent that, here are some suggestions for more interesting conversation starters at an industry event.
By any chance, have you read anything good about [theme of event/forum]?
If you could spend an entire day talking to any expert in our industry, who would it be?
Is [theme of event/forum] a major professional focus of yours?
Why did you decide to come to this event/forum?
Start a Conversation at a Happy Hour Networking Event
Happy hour networking events are more casual than many other professional events, which broadens the topics available to you. They also tend to be filled with other locals so you can talk about the city/state you're in, local venues, and other similar topics. In addition to that, you can talk about topics that are a bit more casual.
At this time on a typical [day of the week], what would you be doing?
What's your favorite part about living in [city]? Least favorite?
If you could only attend one type of networking function for the rest of your life, would you choose breakfasts or happy hours?
I read an article claiming nowadays everyone has a side hustle (or four). Do you agree? Are you working on anything on the side?
Check out the conversation starter infographic below. We welcome you to use this infographic on your website or other marketing materials, provided you include a link back to our website (www.steadyradiancedesign.com).



We welcome you to use this infographic on your website or in other marketing materials, provided you include a link back to our website (www.steadyradiancedesign.com).

What are your go-to conversation starters? What types of events do you find the most difficult to strike up a conversation?
https://srdsuccess.com/wp-content/uploads/2021/02/srdSuccessBlog_featuredImages_2021-02-19.jpg
600
600
bwyderko
http://srdsuccess.com/wp-content/uploads/2021/01/srdSuccess_logo_webHeader.png
bwyderko
2021-02-19 08:00:04
2021-02-19 15:17:16
How to Start a Conversation in (almost) Any Situation (Infographic)